"Where's the 53?!?" they shout, "You promised today we could rip apart, I mean look at, your predictions!!"
"Still working on it." grunts the man behind the blogger. "But don't worry, I got this slam bang article a fellow reader wrote about his Lions camp experiences. And it also has pictures, flashbacks, guest appearances. It's got it all. The 53 guess blog will be up tomorrow, but hey -- give a guy a break -- even the wiz of wiz he was wuz needed sleep now and then. Offense wasn't bad, but Defense is giving me fits."
Seriously, enjoy this great camp experience along with Jreffy. My comments, or pictures he provided that I added to the final blog during editing will be noted with [italics].
When DetFan1979 first suggested I write this post, I was a little hesitant. I currently have my own conservative political blog based here in Chicago (
shameless self advertisement
), but I had never written anything of note about my favorite NFL franchise. So please bear with me into this new territory.
I first contacted DetFan1979 to see if he was going to be able to attend one of the open practices this year for the Lions. I live in downtown Chicago, but my family lives just outside Ann Arbor and I was set to visit them this past weekend (Aug 1st-3rd), during which I planned on checking out Allen Park and attempting to take some pictures for DF to use in his blog. Instead of taking my offer like any rational human being would have, DF suggests I write the post myself. I guess DetFan is getting lazy these days, or discovering it difficult to find time to post between repairing 1$ ninjas.
[I agrees with ninja comment. KJ the Green Ninja now has had both knees, both elbows, both hips, and his neck replaced (with a paperclip and glue) as well as his chest repairs for cracked ribs, and one shoulder. If Ninja's turn out to be voodoo dolls, KJ is in for another rough year. I went out and bought another green ninja yesterday. It was past time - but I had to pay a $1.50 to get the right one. I must be the Al Davis of toy buyers -- Only prettier.)]

Off the bat, let me warn you that I was there as a fan, and not a member of the media. So unfortunately I tended to stay in one section of the bleachers to watch the team practice. The only group I really got to see up close was the Wide Receivers so that's what you'll be seeing most of the time. My one real disappointment though was that this was a helmets-only practice and not the full-pads practice I was expecting.
This wasn't my first experience with Lions training camp. Back around 1999 I was out in Michigan checking out what would eventually be my Alma Mater and my father demanded suggested that the family go check out training camp up in Saginaw. It was an experience that I absolutely loved. As a big jock in High School, I got a huge kick out of watching world-class football players up close. After practice I waited along the fence with all the other fans wanting autographs. I'm not a big collector of autographs or memorabilia, so instead I waited for the players to come by so I could shake their hand. I don't know how it started, but Luther Ellis seemed a little amused by my request and I was able to have a good 15 minute conversation with him while he was signing autographs. It was definitely one of my highlights as a Lions fan. Oh, and for the record, he is as nice and pleasant as anything you have heard, a really great guy.
Now, almost 10 years later, I decided to go check out Allen Park. I arrived around 7:30am and there was already a long line of people waiting to be let in. I didn't anticipate that many people so early on a Friday morning, but it was good to see a large turnout. There were probably about 200 people or so by the time I arrived, so there was no problem getting inside. I don't think anyone was turned away, and I asked one of the staff members who I saw clicker-counting people as they came in what the final number was, she said, "Over 700".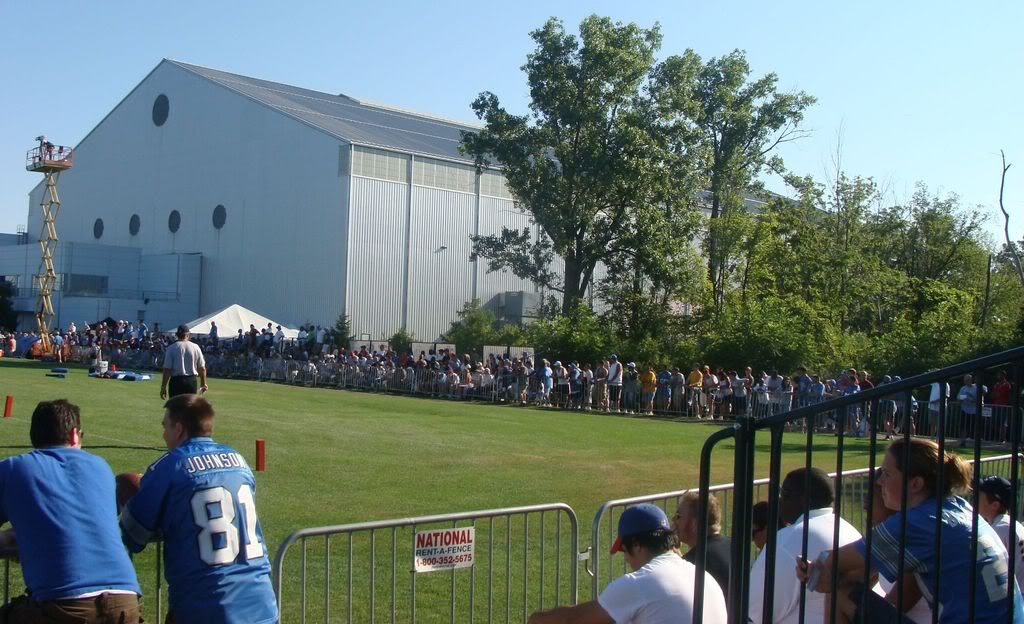 This picture was taken towards the end of the practice. As you can see, lots of people were lined up around the south-east corner of the field. There was also a small area you could sit in at the south-west corner, but most of the viewing area can be seen in the above picture.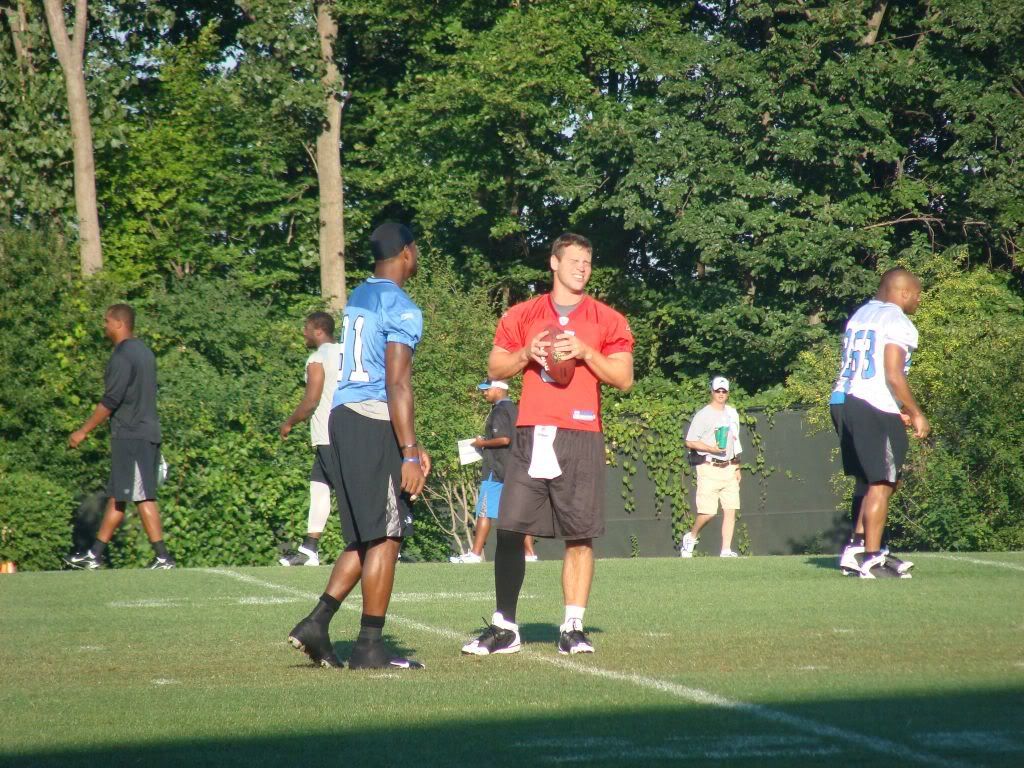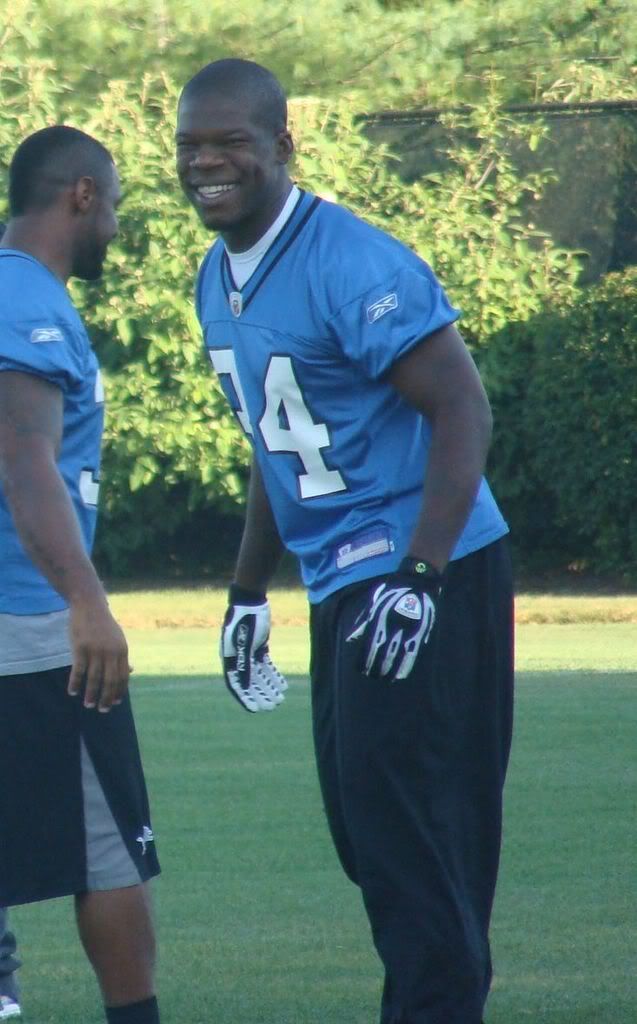 The practice started with everyone kind of just milling about, throwing balls around, talking and joking, as you can see with Calvin Johnson, Drew Stanton, and Kevin Smith above.
I was using a camera my parents had recently bought to photograph my sisters who play Division I college volleyball, and I have to admit, I was seriously impressed with the quality of the photos. I was almost max-zoomed the entire time, and never closer than 20-30 yards to the players at any time.
[Dan Orlovsky, Drew Stanton, and Jon Kitna warm up before practice - DetFan79]
Things got started with the players running through a brief drill where they lined up in formations and jogged/walked through plays. The defense was a bit too far away for me to see what they were doing. As this was going on a man came over to the crowd and gave a brief explanation of what was going to happen during practice. He pointed over to a clock over on a building on the south end of the field and said that the practice would take place over 4 "quarters". They were going to go through warm-up drills to start, after 15 minutes a horn would sound and it'd be on to stretching. After 15 more minutes they would breakup by position for drills, and then on the next horn, come back together to run through some offense/defense.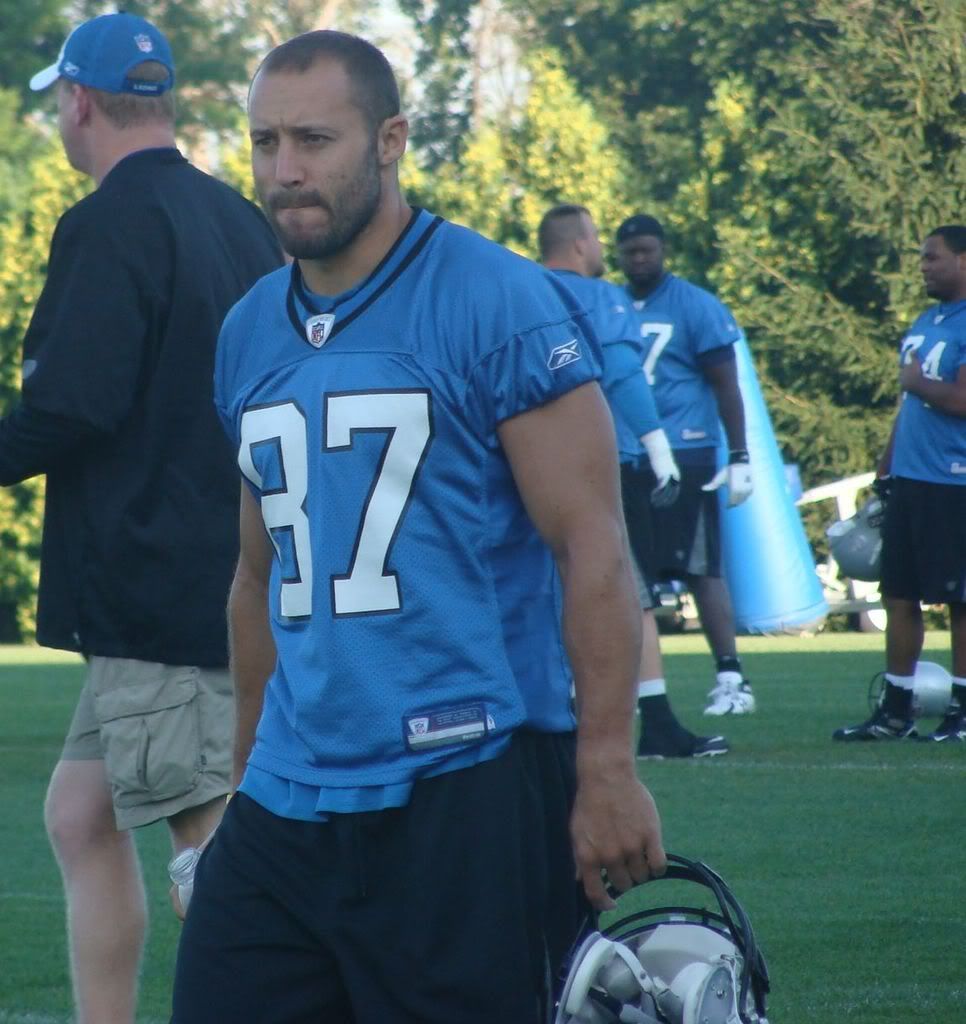 Here are some shots of Jordan Dizon during streches and Mike Furrey just before practice got underway. My Dad and I had a little conversation about Dizon during this time. Apparently someone my father works with is dating the daughter of Dizon's neighbor (confusing, sorry). I guess a week or so ago they were cooking out at her parent's house and invited Jordan and his wife/girlfriend over for some food. Apparently Calvin Johnson, Gosder Cherilus and a few other Lions live in this same neighborhood. While he said Dizon was nice and polite, this co-worker of my father's did explain that he was surprised how small Dizon was. However, after looking at the roster I was handed on the way into training camp, Dizon is only listed as 5lbs lighter than Ernie Sims. I didn't really think Dizon appeared small during the offense/defense drills, but it's something I'm going to pay attention to during Thursday's game.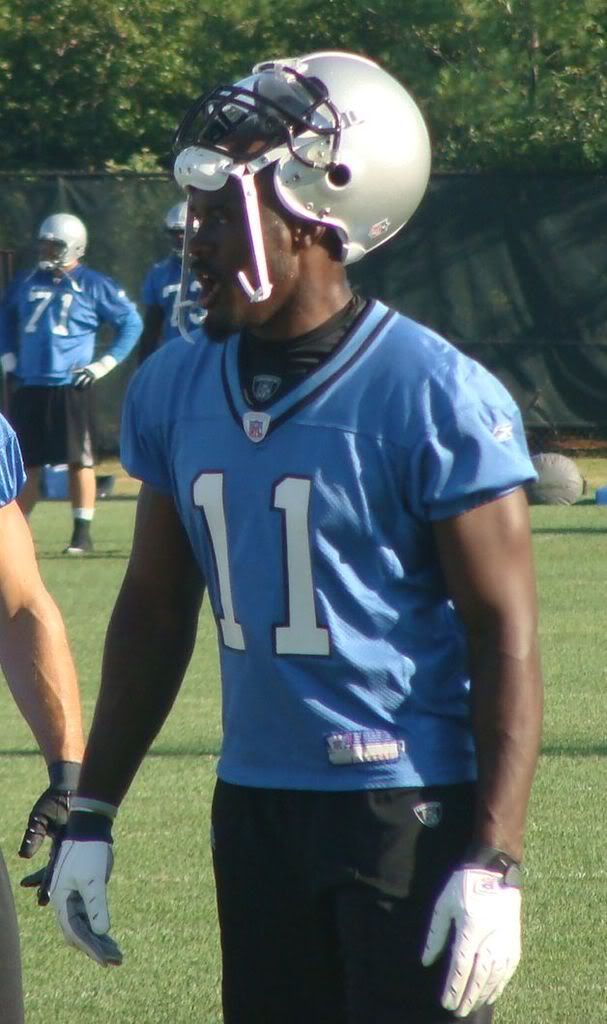 Overall, it was really interested to see how these players behave away from the playing field. To be honest though, I was really disappointed with Roy Williams. I've always personally been the type of guy to be a leader on the team, and I always try to be the first in line during drills, always hustling from one side of the field to the next, but Roy was completely the opposite. He seemed disinterested, was last in every drill line, and wasn't giving 100% (in my opinion). Now, maybe this is typical of Roy, or maybe it had something to do with what Killer wrote about his "spat" that day. I didn't see it happen, so I can't comment. Speaking of Killer, he was there too.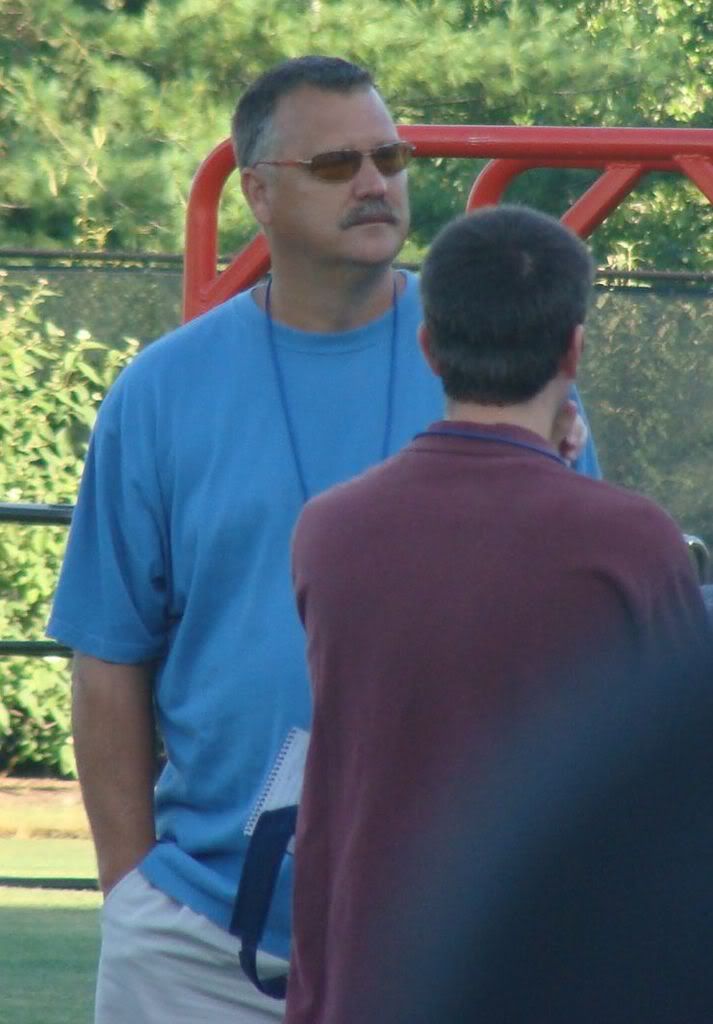 Calvin Johnson and Mike Furrey however, were at the front of every line. They were busting their butts on every sprint, cut, turn, etc. etc. It was really great to see these guys working hard. It's just something else seeing these world-class athletes up close and in person. Nothing on TV can give justice to how fast and smooth these guys move.
At one point, a drill was setup for one player to chase another with a 2-3 yard head start. At the end, Calvin Johnson lined up to chase down Roy Williams, and Roy changed direction at the last second to avoid being tagged by CJ, which brought a few cheers and laughs from the crowd.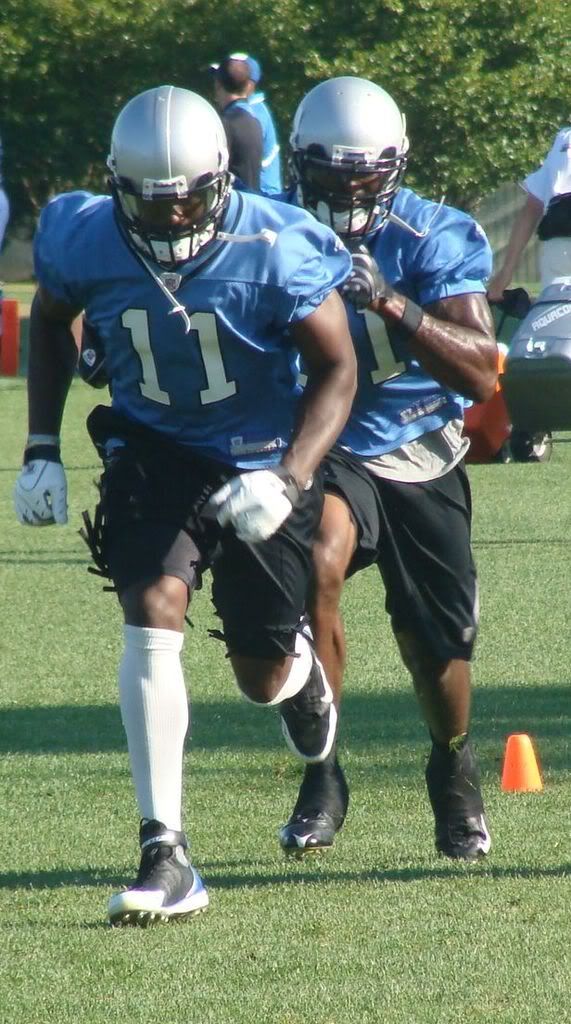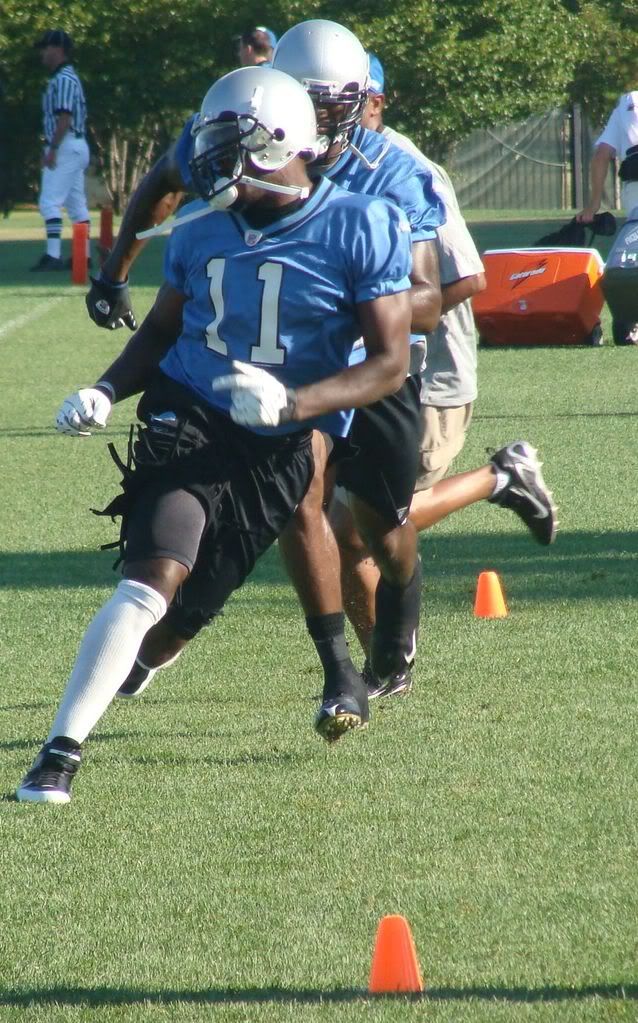 Everyone there was encouraged to clap and cheer, and they did, but not much. In the fans' defense though, it's hard to get excited when there's no hitting or colliding or sense of urgency to the play, even when they went offense vs. defense for a while. Here are a couple pictures I snapped during that time, including a great long-bomb to CJ. It was one of my favorite pictures of the day.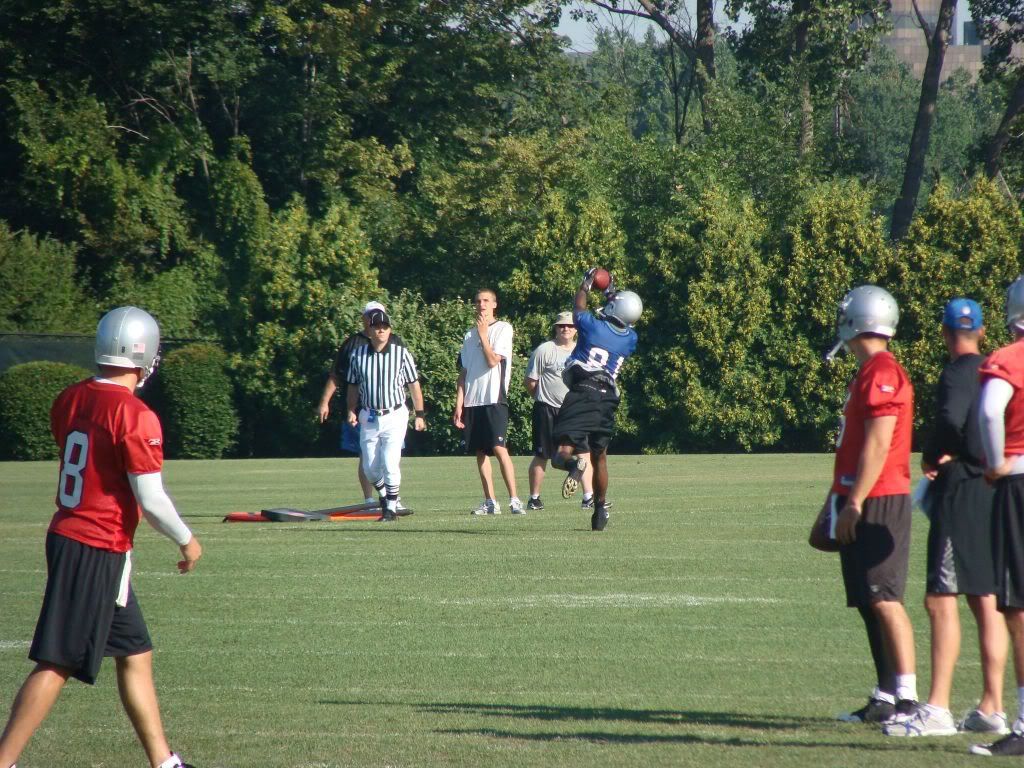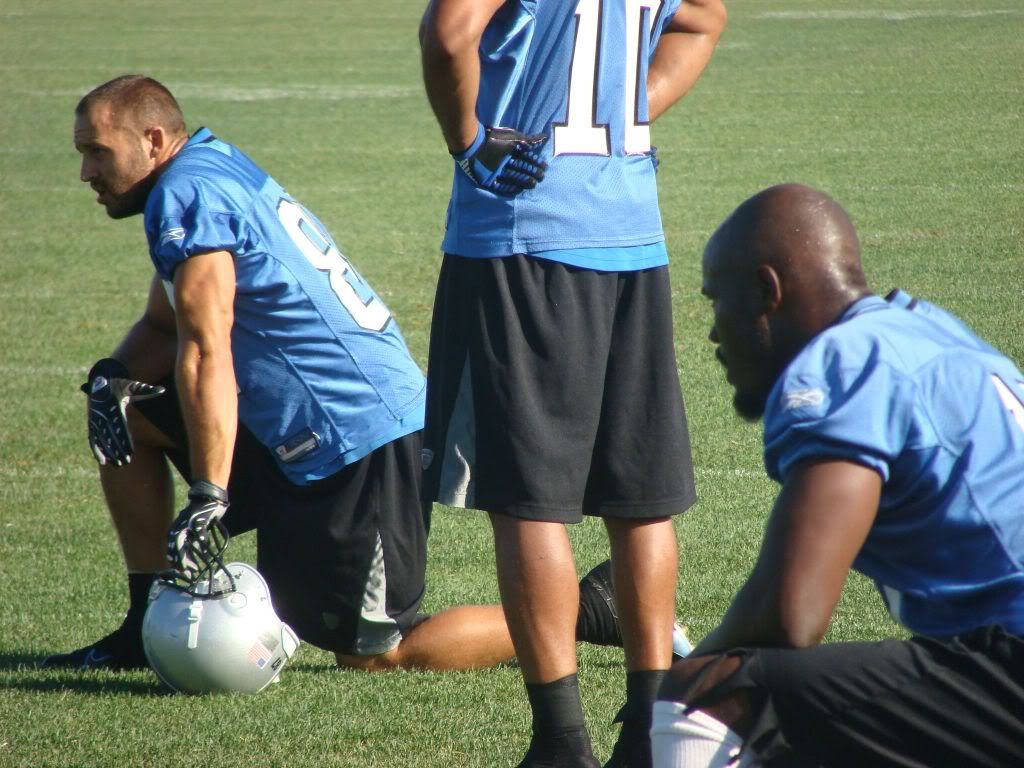 Afterwards, some of the players stopped to sign autographs for the people who lined up along the fence. I was more out of the way, down a bit from where the players passed by as they left the practice field, and I was disappointed when only a few players came over to sign autographs. However, for your information, the 4 guys that went out of their way to walk the whole line of people waiting were DeVries, Cherilus, Sims, and Redding. They were real classy guys, definitely taking their time with all the fans, giving out their practice gloves, etc. etc.
[Composite of Cherlis, Sims, and Redding signing autographs -- DetFan1979]
Overall, I think it's always a great experience to open up these practices for the fans. There wasn't any jeering that I heard and everyone was real supportive, wishing the players good luck on the season as they came in after practice and signed autographs. I highly suggest anyone to take the time and go see the Lions practice. Thanks to DetFan1979 for the opportunity to post, and let's hope we see a successful season this fall.
I'll be posting a lot more of the pictures that I took (well over 200) under my photobucket account. Not all the pictures are uploaded currently (the raw file sizes are huge) but
here's the link
so you can go check them out later if you're interested.
~jreffy