October 7th, 2009 | by detfan1979 |
First of all, I want to say THANK YOU to everyone who reads this blog. If you look directly to the right, you will see that Roar of the Lions was the September Blog of the Month. I am honored, and hope we can put together the first Fanball Network Blog to win multiple times! I can't do it without you, and you deserve the a lot of the credit. Keep up the great comments and input on our team!
As for thoughts, it has been an interesting week on the Lions football front. First of all, the Steelers will be without Willie Parker and Troy Polamalu, which certainly can't hurt the Lions. Most Lions fans are more concerned about the Lions' injuries — Matthew Stafford's injury topping the list.
Unfortunately, there just plain isn't a lot of information out there right now (or should I say fortunately, since this means the team is not an open book for other teams anymore?). I don't have an update on the Status of Sam Hill, DeWayne White, Kevin Smith's shoulder (I'm assuming he is starting again), CJ's leg, or Stafford's knee.
It is somewhat fun to play "guess who is going to play, and at what level?" In the Sporting News, Killer thinks that Stafford will sit so he can fully heal while Culpepper starts. Pittsburgh, though, is preparing mostly as if Stafford will be the starter – but still getting ready for Culpepper just in case. I can see where this will haveto irritate the heck out of Mike Tomlin. He knows exactly what Schwartz is doing, but he is backed into a corner. While Stafford has been an aggressive down the field thrower, while missing on many of the underneath routes, Culpepper has been the exact opposite in his playing time. He has been dinking and dunking his way down the field with accurate short and intermediate throws, and only airing it out once the safeties cheat up to block the middle of the field. This poses as headache to Tomlin and Lebeau since if they prepare to stop Stafford it plays to Culpepper's strengths, and vice-versa. While it isn't going to be a game changer, it will eat up some of rarest of commodities — time. You can never know what makes the final difference in most cases, but this certainly can't hurt.
My hope is that Stafford gets to play, even if he isn't 100% and the Lions get blown out. The Steelers play an aggressive pressure defense that I don't think you can really learn to deal with until you experience it. It's kind of like when you are sparring in a karate match. It looks like "oh, that guy so should have blocked that kick to the head. What was he thinking?" 10 minutes later, you are adjusting your helmet wondering where in the heck that guy's foot came from as you could have sworn he was kicking low.
You just can't apprecite the speed of it until you get run over by it once. Only then can the adjustment to master it begin.
It will also be interesting to see how the rest of the Special Teams (or the entire team as a whole) responds to some of the changes Schwartz made this week. Unlike past coaches who talked about accountability, Schwartz is not afraid to actually make changes if he thinks there is possibly a viable alternative that is/can be better. If my name isn't Calvin Johnson I wouldn't feel too good about my roster spot on the Lions right now.
Darnell Bing was waived and Zack Follett activated from the practice squad. If you recall, showed great flashes of being a special teams hawk in preseason — especially on the coverage units — but was beat out by Darnell Bing who was playing better at LB. With Dizon and Levy playing so well, the Lions felt their LB depth could afford them the luxury of bringing Follett in despite the drop-off in talent at his listed position of LB. The Lions don't have enough playing time for all of their talented LB right now, so Follett not playing at LB will not be an issue. They also brought in White, and DB who returns punts/kicks after putting Jennings on IR. This sends a message to Derrick Williams who just this week will take over the KOR duties from Aaron Brown that he's next on the block if he doesn't perform in his second opportunity — and fast.
Going back to Matthew Stafford, the Scores Report did an interview with Phil Simms regarding his involvement in school road crossing safety ( a big issue, particularly near city elementary schools). At the end, they talked a little football. They asked him if he were GM and Head Coach starting a franchise right now — which young signal caller would he go with? Mark Sanchez, Matt Ryan, Matthew Stafford, or Joe Flacco. The interviewer was obviously as floored as I was reading the article when Simms responded…Matthew Stafford! This is especially the case considering his opinion in pre-draft analysis of Stafford.
Here is the related section in the interview referenced above:
TSR: If you're starting a franchise tomorrow and you have your pick of these four young quarterbacks, whom do you go with: Matt Ryan, Joe Flacco, Mark Sanchez or Matthew Stafford?
PS: Am I the coach too? That could determine whom I choose.
TSR: Yep, you run everything – you're the coach, the GM, everything.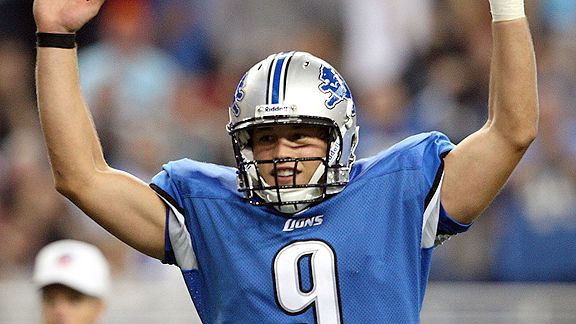 PS: If I had to take one of those four guys right now and we're going to start tomorrow, I'd probably take Matthew Stafford.
TSR: Really?
PS: Yes. He's got the arm and he's a lot more mobile then I thought he would be when I saw him at Georgia. I'm not saying he's got Brett Favre's arm, but he has an arm that is going to last a long time. Of course, Joe Flacco does too, but Stafford would be my type of quarterback.
TSR: Sure.
PS: You know, I think Mark Sanchez has developed a niche where it fits for 40% of the teams and how they want to run their offense. And I think Joe Flacco is in a little bit of a different class himself, you know, because he's a power thrower and you have to fit him in that kind of an offense. But I think there's a little more versatility with Matt Stafford and I was probably too hard on him when I judged him coming out of college. He's got the look of a much better pro early on than I thought he would.
TSR: I'll tell you what, that's not the Matt I thought you'd go with. I thought maybe Matt Ryan with how good he's looked in a year and a half now. To me, he looks like he's progressing, which is a great thing for him and the Falcons because he looked good last year right out of the gates as a rookie.
PS: I like him – no question. But I'm projecting for an entire lifetime. I know there are throws that Matthew Stafford can make that Matt Ryan can't make. To me, that would be the difference. And I know it's all about team, and Matt Ryan is off to a good start and he's done a lot of wonderful things. But I don't look at Matt Ryan and go, "He's an exceptional thrower of the football." He's a good leader, he runs the system well, he's accurate – a lot of good stuff. But, when it comes to making three or four throws a game that only a handful of quarterbacks in the NFL can make, Matthew Staffordis one of those guys.
TSR: Right, well hopefully the injury he suffered last Sunday isn't serious and we can continue to watch this kid develop. He looks like he has a bright future.
PS: Yeah he does. I've got to tell you, I even said this to somebody the other day, that Chicago game I said wow, that was another little step forward for him where his talent is really starting to show on the field. He made a couple of throws that, Jay Culter could have made them, Joe Flaccocould have made them, and there you go – I can't think of anyone else. Peyton Manning? No. Tom Brady? Maybe. You know, guys like Stafford have big arms. I love when people go, "Arm strength just isn't that important." Well, then I sure don't want you evaluating players for me.
I want to take a moment to give kudos to Phil Simms. Most of these "talking heads" in the media flip-flop and act as if whatever opinion they have now, they knew all along. Hindsight is 20/20 but only a sheister or a politician (wait, are those synonyms? I digress) will pretend they "knew all along." Of course they didn't "know the whole time that Tom Brady would be great!" or some such nonsense. If they were that good at predicting these types of things they wouldn't be working where they are now — they would be on the beach in Cancun! What I like about this interview is Phil acknowledged after seeing them in NFL action, he has changed his mind– he feels Stafford has already exceeded what he expected out of him and will be a much better pro than Phil predicted before the draft.
Hats off Phil for a moment of personal responsibility taken in mainstream sports journalism!
In additional notes from the Chicago game, Sean at Pride of Detroit has hisusual drive-by-drive breakdown. You can also catch NetRat's latest game breakdown. He's right on with his predictions for this year that he made back in August — hopefully he is wrong, and the Lions steal one from Green Bay or Pittsburgh. We can hope, right?
Tags: Chicago Bears, Detroit Lions 2009, Detroit Lions News, Jim Schwartz,Matthew Stafford, NFL 2009, Phil Simms
9 Responses to "Thanks and Thoughts…"